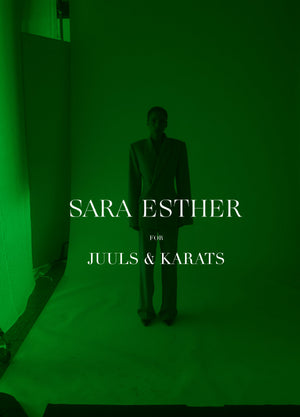 Catch her if you can.
Discover the collab by fine jewellery designer Sara Esther and demi-fine jewelry brand Juuls & Karats, just in time to treat yourself.
The fantômas ring is a key piece from the second brume collection launched in 2013 by fine jewellery designer Sara Esther. Like a relic, she reappears this season and has been brought up to date in 14kt gold through a fresh & sparkly collab with juuls & karats to bring you everyday luxury at its best.
She shines through in the shadows with a subtle game of hide and seek, she mysteriously disappears and then surprises you when you least expect it. She delicately slips on your finger, gliding through the city streets and reveals herself in the shimmering of the night lights.
Fantômas, she will follow you everyday, like a lover's wink. Ultra feminine and mysterious yet strongly unisex and bold, she embraces you while keeping a safe distance.